The images you'll receive will easily print up to any size you like, even larger than life. The files I provide are the highest size and quality I have, and each session includes a photo release giving you full rights to make as many of your own prints as you want, at any size you want using whatever printer you want.
Looking for professional quality prints beyond the level of Walgreens and Costco? I use a print lab out of Santa Cruz for all client work as well as my personal photos and have always been thrilled with the sharpness and true-to-life colors. You're welcome to order these prints through me at the following costs: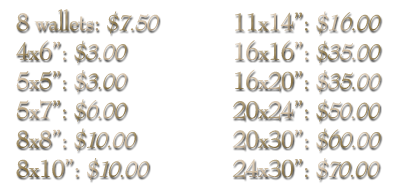 Need a different size? Let me know—there are plenty of other options.
Please note that these prices do not include shipping or sales tax.